Procedures and Services
Dr. Omecinski and his staff provide a wide array of dental services for patients of all ages that include routine cleanings and checkups, fillings, crowns, bridges, periodontal treatment, dentures, partials, implant restorations, cosmetic services, and more. We are committed to giving patients a comfortable environment, by utilizing modern technology, and using proven techniques to
achieve results that last.
Preventative:
We want you to have teeth that look good and feel good for a lifetime. Routine dental examination and cleanings combined with education on good oral hygiene and dietary habits minimize the risk of developing cavities and gum disease. Gum disease is a bacterial infection. Many people do not experience pain from gum disease, only slight redness, swelling, or bleeding while brushing their teeth. Left untreated, gum disease can escalate to cause tooth loosening and loss, gum recession and pain. Bacterial infection in the gums has been linked to heart disease, stroke, diabetes complications, and low birth weights. We will perform a complete assessment of your teeth and gums to check for any issues. If a problem is detected, you will receive a customized plan to restore good oral health. Other preventative services we provide include sealants, topical fluoride, and night guards.
Sedation:
Many people feel apprehensive about visiting the dentist. Our team's warm manner, the pleasant surroundings in our office and Dr. O's gentle approach to dentistry usually ease any concerns our patients may have. Some people, however, need more than kindness, calm atmosphere, and a gentle touch to alleviate their distress, so we offer Nitrous Oxide (laughing gas) and sedation dentistry. Aimed at alleviating anxiety, oral conscious sedation involves a dentist-prescribed medication that you will take before your treatment. You will not be unconscious, but you may feel sleepy, calm and pain free while you receive treatment. Because the medicine lingers in your system, you will need a ride to and from our office. Before treatment begins, Dr. O. will answer any questions you may have, address concerns and together with you, decide what measures are appropriate.
Cosmetic:
Do your teeth look worn, crowded, misaligned, or discolored? Are you missing teeth or wish you did not have that gold or silver showing? We want to help you smile with confidence. Even the most subtle change in your smile can make a dramatic difference in the way you look and feel about yourself.Dr. O. will discuss with you your desires and devise a customized treatment plan that will help you attain a smile you have always wanted. The options vary from aesthetic treatments such as porcelain bonding, veneers, tooth whitening, tooth colored crowns, and fillings, or reconstructive procedures like a bridge or dental implants.
Whitening:
Professional teeth whitening is an effective way to brighten smile and takes less than an hour with "Zoom" in office treatment. The simple procedure requires no anesthesia and is perfectly safe. After preparing your mouth, we will apply gel to your teeth and activate the teeth whitening process with a special light. You'll leave our office with a smile that can be up to 9 shades whiter. We also provide custom made take home trays and professional grade whitening gel to touch up and maintain your in office teeth whitening result. For those who prefer to whitening at home, we can help with that too.
Porcelain Veneers:
Handcrafted from thin porcelain shells that reflect light like the enamel of a natural tooth, veneers fit over existing teeth hiding gaps, breakage, discolorations and other imperfections, Dr. O. will listen to your ideas, study your facial features, and design a personalized plan for veneers that fulfill your vision of an ideal smile. Dr. O. will place custom-made temporary veneers based on that vision to give you a chance to preview your new smile and make any changes prior to fabricating the permanent restorations.
Implants:
Due to their potential for longevity, stability, and natural appearance, dental implants are common replacement of missing teeth. Implant crowns, bridges and implant retained dentures are an excellent alternative to restore function and appearance when teeth have been lost.
Special Equipment:
Digital x-rays allow us to take an image of a tooth or teeth and use an imaging program that provides an accurate and detailed view of the teeth and surrounding structures. As a great benefit to the patient, digital x-rays provide nearly 80% less radiation exposure that a standard dental x-ray.
The Intraoral camera and digital photographs are incredible tools to view the entire mouth or just one tooth. The Intraoral camera has the ability to get a close look at teeth and potential problems. These images can be conveniently placed on a monitor so patients can see for themselves, firsthand, what we are seeing. These images are also a great tool for gaining procedure acceptance from insurance companies.
Zoom:
In house whitening allows us to effect dramatic changes in tooth shade for our patients in a short period of time. Patients no longer need to follow a strict schedule of compliance and wait two weeks to gain a smile that is amazingly white.
Dr. Omecinski utilizes 3.2 magnification with a focused Fiberoptic LED light on every procedure and new patient exam to ensure attention to the finest details, whether searching for potential problems or restoring the perfect smile. Dr. O. is committed to providing the best job possible to help you keep your smile for a lifetime.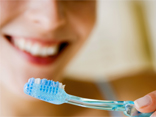 5 Ways to Care
for Your Teeth
By Dr. O
Brush regularly - Brush your teeth regularly. Three times per day is recommended; i.e. morning, mid-day, and before going to bed.
Floss regularly - This is important for gum health and to help prevent cavities between your teeth.
Use a fluoride rinse - Use an alcohol free mouthwash once or twice a day.
Avoid harmful food/drinks - Foods and drinks high in sugar and/or acid will aid in enamel erosion making it easier for cavities to form on teeth.
Avoid chewing tobacco and smoking - Chewing tobacco and smoking can cause stains as well as a variety of mouth cancers, avoid these completely.