About Us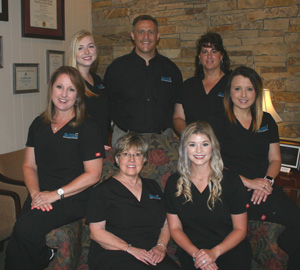 We feel it is a true privilege when patients trust us with their dental health and appearance. We take pride in the care we give our patients and we strive to always be kind, understanding, and attentive to our patient's desires and comfort. Our approach is to first listen, then find out what is most important to the patient, in terms of their dental health, and provide patient care centered on their goals.

We aim to help patients achieve their dental health goals whether it is a gorgeous smile, pain free teeth, a better bite, or tooth replacement. Our team's goal is to provide dentistry that looks good, feels good, and lasts a long time. We understand that many people are not comfortable even coming into a dentist office, so we take extra care in making every appointment as gentle and thorough as possible. Our office maintains a highly trained staff, state of the art equipment and continued education in the latest dental techniques and procedures.

If you would like to learn how we might be of service to you, please contact us today.

Meet Dr. O Meet the Staff.
Quality Dental Care
"Never have I ever walked out with a smile on my face from a dentist office, till now. He made me feel good. The staff is very nice as well."